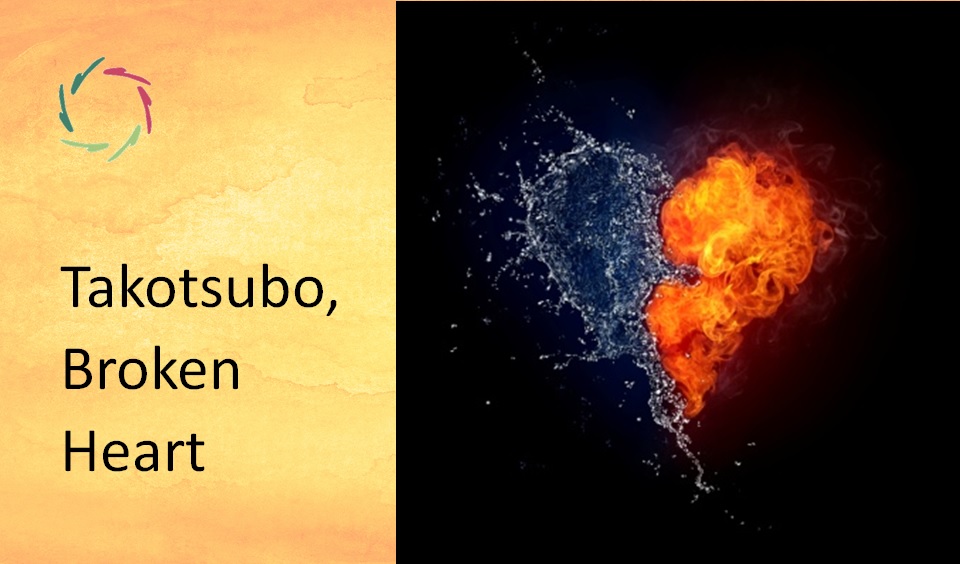 Also called acute stress-induced cardiomyopathy (heart disease) or broken heart syndrome, takotsubo is triggered by intense emotional or physical stress. The heart fails. The patient may die.
►►► WHY read this? Takotsubo is not well known but reasonably frequent. It shows how significant can be the influence of stress on heart disease. ◄◄◄
No, it's not about my broken heart.
Who, when, what (scientific background)
First described in 1990, takotsubo has gained substantial attention during the past 15 years, although still being underdiagnosed. [Napp et al., 2020] There is a clear gender predilection towards women (9:1). It occurs predominantly post-menopausal (but is seen increasingly at a younger age) and is commonly associated with stress. It's often triggered by a major stressful event inducing anxiety, fear, depression, or grief. From the beginning, it has been associated with the absence of coexisting major heart vessel disease.
Probably 7% of patients with presumed heart attacks are suffering from broken heart syndrome. [Dawson, 2018] It mimics an acute heart attack with a sudden onset of chest pain and breathlessness. It also has a prognosis comparable to myocardial infarction. [see also: "How to Prevent Your Next Heart Attack"]
The heart gets the shape of a takotsubo (Japanese octopus-fishing pot) with a typical ballooning at the heart tip (apex) on imaging during systole (heart contraction phase) and dysfunction of the left heart chamber. There is no obstruction visible of any coronaries (arteries of the heart).
Physically, the mechanism involves acute inflammation of the heart muscle, probably on top of a low-grade chronic inflammatory state. [Scally et al., 2019] Also, spasms of small blood vessels around the heart may be involved. [Napp et al., 2020]
It is reversible in the majority of cases within a month, but complications are possible during the acute phase, including death. Also, there may be long-term damage to the heart muscle and heart failure.
From stress to inflammation
"The causative association with a type of emotion or stress has been widely accepted as the hallmark of this condition (mostly as a negative experience but in a minority a positive one,[Ghadri et al., 2016]… Many triggers have been described, for example, bereavement, near-miss road traffic accident, arguments, conflict, divorce, public speaking, a severe fright, protracted stress and hardship or any physical illness such as cancer, administration of chemotherapy, infections, diarrhea/vomiting, routine general anesthesia, cardioversions and many others." [Dawson, 2018]
Around half of takotsubo patients suffer from an acute or chronic neurological or psychiatric disease [Templin et al., 2015], suggesting that the brain is a critical causal component. Also, preexisting type D personality in takotsubo patients provides susceptibility, suggesting that coping mechanisms and an individually increased response to stress drive the onset [Compare et al., 2013].
That makes takotsubo a disease (one of many, including COVID) in which acute mental stress and immuno-inflammatory reactions go together. Acute-on-chronic stress is probably an important predisposing factor. Until now, little research has been done on the acute-on-chronic stress condition. Contrary to this, we know quite a lot about the influence of chronic stress on the immune system. Sadly, little of this has been translated into medical practice or general healthcare. "Just relax a bit" is not enough.
Takotsubo deaths are one sorry consequence of this neglect.
In cardiology, the emotional triggering of cardiac events has been described for several conditions and pathways: immunological, hormonal, neurological. Knowledge about this comes from a plethora of epidemiological and clinical data; in one word: science.
Just a few references: [Bhattacharyya et al., 2007] [Daskalopoulou et al., 2016] [Davidson et al., 2018] [Fransson et al., 2018] [Frasure et al., 1995] [Gullette et al., 1997] [Kawachi et al., 1996] [Kivimäki et al., 2015] [Krantz et al., 2014] [Kubzansky et al., 1997] [Lampert et al., 2019] [Lichtman et al., 2014] [Nabi et al., 2008] [Perk et al., 2012] [Rieckmann et al., 2013] [Smigelskas et al., 2015 [Steptoe et al., 2009] [Y-Hassan et al., 2015] [Yusuf et al., 2004]
What shall we do?
You could have guessed if you know a bit of AURELIS. I'm right on track of creating an app with mental exercises that may be very useful in all this.
If you are interested, please let me know. According to the interest, it may get realized sooner. It would be nice to see the app scientifically validated. If it works, it works. If not, so be it. In the latter case, I would be amazed.
References
[Compare et al., 2013] Compare A, Bigi R, Orrego PS, Proietti R, Grossi E, Steptoe A. Type D personality is associated with the development of stress cardiomyopathy following emotional triggers. Ann Behav Med. 2013;45(3):299-307. doi:10.1007/s12160-013-9474-x
[Daskalopoulou et al., 2016] Daskalopoulou M, George J, Walters K, et al. Depression as a Risk Factor for the Initial Presentation of Twelve Cardiac, Cerebrovascular, and Peripheral Arterial Diseases: Data Linkage Study of 1. 9 Million Women and Men. PLoS One. 2016;11:e0153838.
[Davidson et al., 2018] Davidson KW, Alcántara C, Miller GE. Selected psychological comorbidities in coronary heart disease: Challenges and grand opportunities. Am Psychol. 2018;73(8):1019–1030.
[Dawson, 2018] Dawson DK. Acute stress-induced (takotsubo) cardiomyopathy. Heart. 2018;104(2):96–102.
[Fransson et al., 2018] Fransson EI, Nordin M, Magnusson Hanson LL, Westerlund H. Job strain and atrial fibrillation – Results from the Swedish Longitudinal Occupational Survey of Health and meta-analysis of three studies. Eur J Prev Cardiol. 2018;25(11):1142-1149. doi:10.1177/2047487318777387
[Frasure et al., 1995] Frasure-Smith, N., F. Lespérance, M. Talajic, 'The impact of negative emotions on prognosis following myocardial infarction: is it more than depression?,' in: Health Psychology, 1995 (14):388-398.
[Ghadri et al., 2016] Ghadri JR, Sarcon A, Diekmann J, et al. Happy heart syndrome: role of positive emotional stress in takotsubo syndrome. Eur Heart J. 2016;37(37):2823-2829. doi:10.1093/eurheartj/ehv757
[Gullette et al., 1997] Gullette, E.C.D., e.a., 'Effects of mental stress on myocardial ischemia,' in: JAMA, 1997 (21):1521-1526.
[Kawachi et al., 1996] Kawachi, I., D. Sparrow, A. Spiro, P. Vokonas, S.T. Weiss, 'A prospective study of anger in coronary heart disease: the Normative Aging Study,' in: Circulation, 1996 (94):2090-2095.
[Kivimäki et al., 2015] Kivimäki M, Kawachi I. Work Stress as a Risk Factor for Cardiovascular Disease. Curr Cardiol Rep. 2015;17(9):630.
[Krantz et al., 2014] Krantz DS, Burg MM. Current perspective on mental stress-induced myocardial ischemia. Psychosom Med 2014; 76:168–170.
[Kubzansky et al., 1997] Kubzansky, L.D., I. Kawachi, A. Spiro, S.T. Weiss, P.S. Vokonas, D. Sparrow, 'Is worrying bad for your heart: a prospective study of worry and coronary heart disease in the Normative Aging Study,' in: Circulation, 1997 (95):818-824.
[Lampert et al., 2019] Lampert R, Burg MM, Jamner LD, et al. Effect of β-blockers on triggering of symptomatic atrial fibrillation by anger or stress. Heart Rhythm. 2019;16(8):1167-1173. doi:10.1016/j.hrthm.2019.03.004
[Lichtman et al., 2014] Lichtman JH, Froelicher ES, Blumenthal JA, Carney RM, Doering LV, Frasure-Smith N, Freedland KE, Jaffe AS, Leifheit-Limson EC, Sheps DS, Vaccarino V, Wulsin L; American Heart Association Statistics Committee of the Council on Epidemiology and Prevention and the Council on Cardiovascular and Stroke Nursing. Depression as a risk factor for poor prognosis among patients with acute coronary syndrome: systematic review and recommendations: a scientific statement from the American Heart Association. Circulation 2014; 129:1350–1369.
[Nabi et al., 2008] Nabi H, Kivima¨ ki M, Zins M, et al. Does personality predict mortality? Results from the GAZEL French prospective cohort study. Int J Epidemiol 2008;37: 386–96.
[Napp et al., 2020] Napp LC, Bauersachs J. Takotsubo syndrome: between evidence, myths, and misunderstandings. Takotsubo-Syndrom: Evidenz, Mythen, Missverständnisse. Herz. 2020;45(3):252-266. doi:10.1007/s00059-020-04906-2
[Perk et al., 2012] Perk J, De Backer G, Gohlke H, Graham I, Reiner Z, Verschuren M, Albus C, Benlian P, Boysen G, Cifkova R, Deaton C, Ebrahim S, Fisher M, Germano G, Hobbs R, Hoes A, Karadeniz S, Mezzani A, Prescott E, Ryden L, Scherer M, Syvänne M, Scholte op Reimer WJ, Vrints C, Wood D, Zamorano JL, Zannad F; European Association for Cardiovascular Prevention & Rehabilitation (EACPR); ESC Committee for Practice Guidelines (CPG). European Guidelines on cardiovascular disease prevention in clinical practice (version 2012). The Fifth Joint Task Force of the European Society of Cardiology and Other Societies on Cardiovascular Disease Prevention in Clinical Practice (constituted by representatives of nine societies and by invited experts). Eur Heart J 2012; 33:1635–1701.
[Rieckmann et al., 2013] Rieckmann N, Kronish IM, Shapiro PA, Whang W, Davidson KW. Serotonin reuptake inhibitor use, depression, and long-term outcomes after an acute coronary syndrome: a prospective cohort study. JAMA Intern Med 2013; 173:1150–1151.
[Scally et al., 2019] Scally C, Abbas H, Ahearn T, et al. Myocardial and Systemic Inflammation in Acute Stress-Induced (Takotsubo) Cardiomyopathy. Circulation. 2019;139(13):1581–1592.
[Smigelskas et al., 2015] Smigelskas K, Zemaitiene˙ N, Julkunen J, Kauhanen J. Type A behavior pattern is not a predictor of premature mortality. Int J Behav Med 2015;22:161–9.
[Steptoe et al., 2009] Steptoe A, Brydon L. Emotional triggering of cardiac events. Neurosci Biobehav Rev. 2009;33(2):63-70. doi:10.1016/j.neubiorev.2008.04.010
[Templin et al., 2015] Templin C, Ghadri JR, Diekmann J, et al. Clinical Features and Outcomes of Takotsubo (Stress) Cardiomyopathy. N Engl J Med. 2015;373(10):929-938. doi:10.1056/NEJMoa1406761
[Y-Hassan et al., 2015] Y-Hassan S, Feldt K, Stålberg M. A missed penalty kick triggered coronary death in the husband and broken heart syndrome in the wife. Am J Cardiol. 2015;116(10):1639-1642. doi:10.1016/j.amjcard.2015.08.033
[Yusuf et al., 2004] Yusuf S, Hawken S, Ounpuu S, Dans T, Avezum A, Lanas F, et al. INTERHEART Study Investigators. Effect of potentially modifiable risk factors associated with myocardial infarction in 52 countries (the INTERHEART study): case-control study.