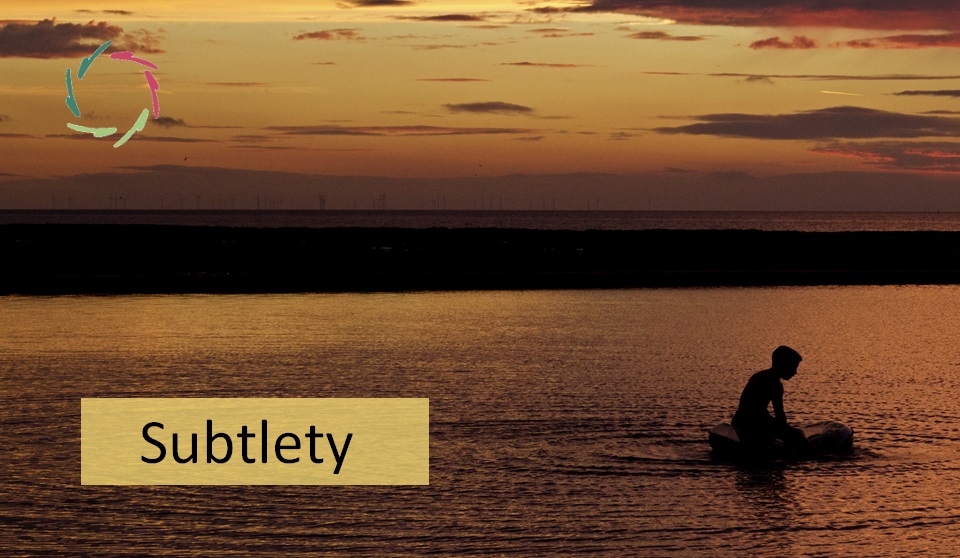 Something is subtle when related concepts are semantically close to each other or even overlap each other, while the distinctions are relevant and yet hard to grasp.
One is easily mistaken, which has important implications.
Subtlety is different from hairsplitting.
This is very important! … and in a number of cases it is subtle too. Namely: someone who doesn't grasp certain subtleties, may wrongly think that someone else comes up with needless complications.
This other person may get into a difficult situation. After all, if he wants to express himself in a better way, then he needs to be even more subtle. If he doesn't do that, he will strand in further argumentation. In both cases, he runs the risk of being greatly misunderstood.
There is no easy solution to this situation. But an attempt is possible.
Look to what extent you can let the other approach your point of view, by himself. Every piece of the distance makes it all a little less problematic.
At the same time, you are applying a bit of coaching. If you do it right, the other may feel something within himself being set into motion.
If you feel that there is a standstill and the other doesn't yet fully understand your subtleness, you may ask for his/her compassion.
"I feel that we are not entirely on the same page. Shall I try to look at it completely from your point of view and will you do the same for me?"
Maybe you have to adapt your own subtle point of view a little bit because of this. That would be all the better of course. Everyone can grow and in principle it's always nice to be able to. The fact that you can keep an open attitude to make this possible, is nice too.
In case you would be tempted to have a discussion though,
try to keep the points of view as close to each other as possible. Imparting a little bit of your vision on the other is always better than being absolutely right yourself and at the same time completely losing the other. It is not your position that suffers, only your-position-towards-this other. You 'lose' little or nothing as a result of this.
Hopefully.
Because it is good for yourself to keep subtlety. Try to keep it as clearly as possible. Try to appreciate it within yourself.
Pretty much is 'subtle' at AURELIS.
That is more generally a feature of depth, in contrast to a superficiality at which the blunt concepts are fairly easy to distinguish.
In depth, there is often an important difference between mere-ego and total self. This also makes a difference for example between frustration and desire.
The closer you approach the core of something, the more important its subtlety becomes.
A small mistake which is irrelevant as seen from afar, can become more and more important if you take a closer look at it. Think for example of the 'deeper self that does not want to be changed'. Seen from afar, it also has this certainty, so it just concedes. If the change comes closer and effectively can ever happen, the distinction between changing from inside and being changed becomes very important. The defensive walls are going up more quickly. Cannon artillery.
Be very careful!