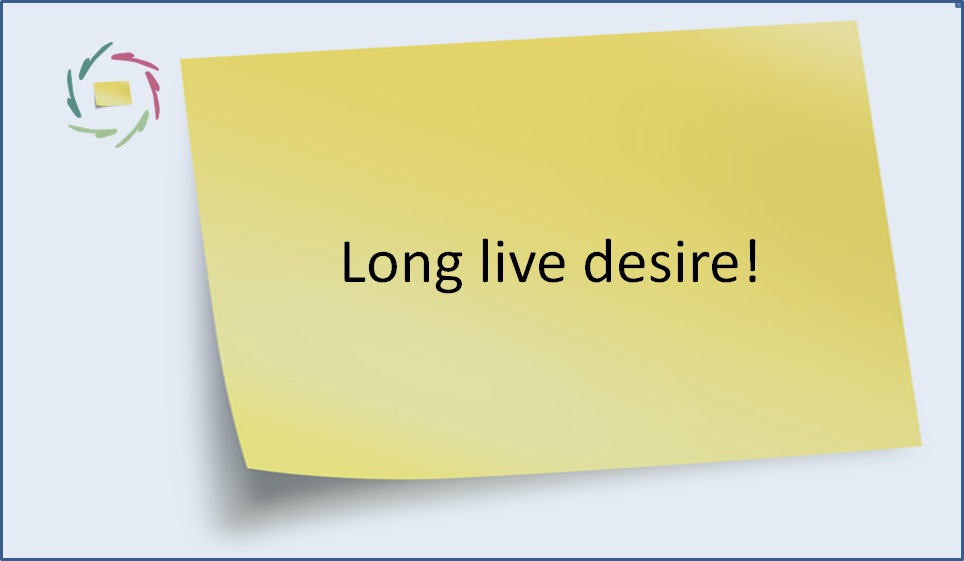 People are no steam engines. That seems to be clear.
◊◊◊
Yet in a profound way the prevailing (although mostly underlying) idea in Western culture about human desires in general comes down to precisely this: a desire as something that, if not gratified, builds up and … yes … puts steam on the kettle. This steam is also called 'frustration'. The gratification of the desire/frustration in this view is something like a whistle or a valve whereby the steam is transcended into action. The engine comes into mot(ivat)ion.
◊◊◊
This is a dissociated view: you have people; you have desires. People 'struggle' (try to cope in one way or the other) with desires. By giving in to a desire, this loses strength, for a while. In the end, people are more or less helpless against this. As the saying goes: 'the flesh is weak'. So people need help from…?
◊◊◊
I don't think so.
◊◊◊
People are their own desires. This is also true in a very deep sense. Desires are not something like conditions used by a kind of devilish creature trying to annoy us and 'lead us astray'. Therefore, desires are not necessarily linked to frustrations either. Having a desire is simply being human, being yourself. You can and may enjoy being yourself. It's completely positive. Frustrations do not come from desires, but from a frustration-kind of relating to desires.
◊◊◊
This is the bright side of life: you can in principle enjoy the desire itself, always. Are you hungry? Good! You can enjoy being hungry. Then you eat. Very good! You can enjoy eating. Then after a while you are hungry again… There is no frustration in this.
◊◊◊
The same is true with sex for instance. You can enjoy the desire for sex. Then the sex. Then the desire for sex. No frustration. Only happiness, true 'making love'.
◊◊◊
As I feel it, a 'frustration-prone-desire' is not even really a desire. Surely it's called a desire, but actually it's not. On the contrary, it's a frustration, a thing that even prevents real desire. As simple as that. A desire is always positive, a frustration is not. For instance, one cannot really enjoy food while 'craving for it'.
◊◊◊
Then where does this frustration-thing come from? Why is it so prevalent? According to me, it's mainly because making people frustrated is an easy way to gain power over them. The recipe is: make people frustrated. Then put yourself on a pedestal as the one who can take away the frustration, be it through fighting against it or giving in to it. As a result: power. Yet: a very petty kind of power if you ask me.
◊◊◊
Practically, if for instance you want to lose weight, try to deeply enjoy being hungry. Then try to deeply enjoy eating. Try to avoid frustration (especially while following a diet!). A good communication with your deeper self can help you very much in this. I would say: broadly seen, it's even indispensable. This way, the war against your deeper self ends. As a result, you will almost effortlessly lose weight and frustration. You will gain desire and enjoyment. Most important of all, you will gain yourself.
◊◊◊
Long live desire!
◊◊◊