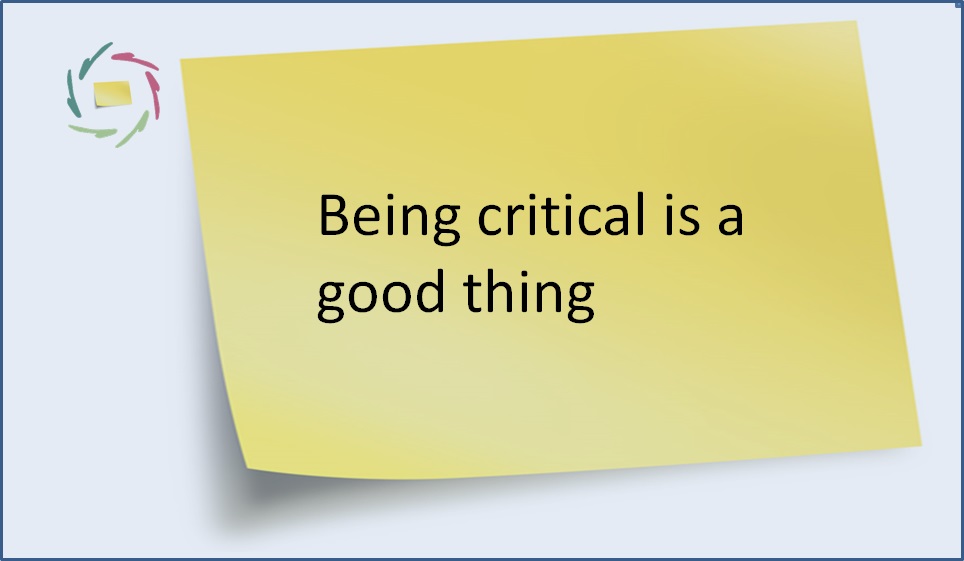 Many people like to be 'critical' or 'skeptical'.
That's a good thing. Or would be…
◊◊◊
…if it would really mean what it says. Being 'critical / skeptical' (let's suppose it designates the same thing) means that a person has the energy and desire, one can rightly say 'the guts' to look at something from different points of view, to remain as rational as possible while doing so, and to accept the conclusion that comes out as most evident at least until a more rational way to a more rational conclusion comes up. Being critical is about always being open to change, not only 'some change' but a breathtaking change when appropriate.
◊◊◊
What people call 'being critical', sadly enough, is almost the opposite in many cases. Then it's about a priori not wanting to accept another viewpoint but one's own. It's about defending (lots of defense) one's own 'known pathways' by beforehand shutting out the consideration of other possibilities.
◊◊◊
That's not being critical. That's being scared, weak, withdrawing from reality. It's precisely about not wanting to think, not wanting to be rational, not wanting to be critical, under the disguise of being it. It's a good disguise. One can easily fool oneself with this disguise for a lifetime.
◊◊◊
"I'm critical. I'm not gullible. I don't let myself be easily convinced by another viewpoint." Good!
◊◊◊
Saying the same thing, but meaning: "I just do not let myself be convinced by another viewpoint if it doesn't suit me." … Not so good!
◊◊◊
I see this quite often.
◊◊◊
So next time you say that you are 'critical', please make sure you really are not saying the opposite. This world is a world of change. Especially through a hyperbolic curve in technical possibilities, we have no idea of the magnitude of change that lies waiting for us in the future. More than ever before, there's a tremendous need for people who know the one and only true art of being really critical.
◊◊◊