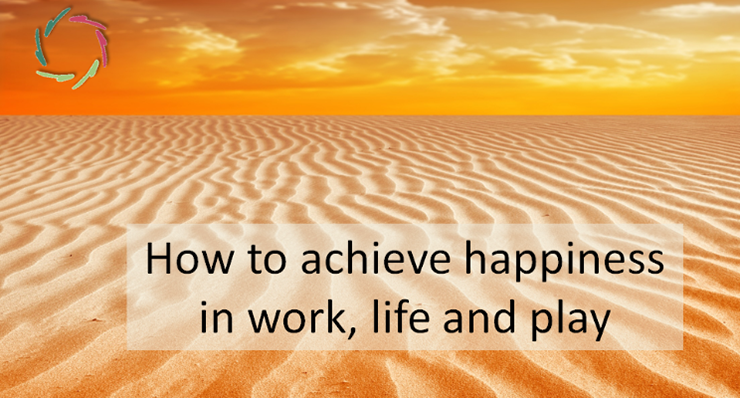 Happiness cannot be grabbed – principally.
If you want to achieve it by grabbing it – that's impossible. Try it and you lose it.
So think about what you feel when you feel happiness.
You feel all kinds of positive feelings. You feel little or no negative feelings. And this play of what you feel and what you don't feel, comes over you – spontaneously. It happens to you. You cannot grab these feelings either.
But you can do one thing to let it happen to you. You can invite.
This is: think about happiness. Put your attention on happiness. Think that this is something you might like if it comes to you. But at the same time, whether it comes to you or not, is not the important issue. If happiness comes, well – you're happy that it does. If it doesn't come – well, OK. Sure. It's not the happiness that is important. What is much more important, is where the happiness comes from. Notice that this is kind of a different attitude towards happiness from start to end, than the usual stuff. Important is where the happiness comes from. If it genuinely comes out of you, then that means that something important inside you has just been touched in a positive way. Something important inside you just made you happy. That can be anything: an idea, a feeling, a motivation. It can be a thought about someone, a memory, an anticipation – anything.
So if you feel happy, try to go into what makes you feel happy.
Try to really understand that. I mean: try to feel why it has this meaning to you, why it is important to you. In your quest for happiness, this is the best thing you can do. Usually, when we are happy, we are indulged in the feeling of happiness itself. You're allowed to do so. But also think about what is important. Don't push the happiness aside, but at the same time do some effort to try to look through it. It's a chance for you to get to know yourself better. It's also a chance to not push the happiness away by trying to grab it. Most important to achieve, is to find the part of you that lies behind.
What about the happiness itself? You get it for free.